Our Chief Instructor, Sifu Steve Lancey, has a diverse background in the martial arts which he uses to help to make his Wing Chun class practical, enjoyable and effective.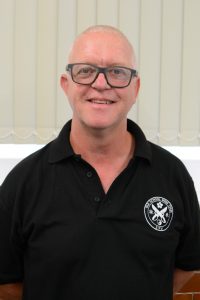 Sifu Steve began his martial arts training in Wado Ryu Karate in 1973, having been inspired like so many others by Bruce Lee, who was single handedly responsible for popularising Wing Chun and making it probably the most popular style of Kung Fu in the world today. He continued to train in Wado Ryu for some years before moving to York in 1992.
He began training in Wing Chun in the 1980's for a short period under Victor Khan in London and other instructors in Slough and Guildford, but began his Wing Chun training in earnest in 1997, in York. Sifu Tony Robbins was his instructor (who formed his own school – The Ridings Wing Chun Kung Fu Academy in 1999), having been taught by Sifu Colin Ward of the Northern Wing Chun Kung Fu Association. Sifu Colin is a student of Ip Man's eldest son Ip Chun, so that is our lineage, but we have no affiliation with that or any other organisation.
Sifu Steve gained his black sash instructor grade in 2001 and opened his Wing Chun class covering Haxby and Wigginton (5 miles north of York) at The Old School, Wigginton, York, in September 2001. Old School Wing Chun is a totally independent Wing Chun school.
Sifu Steve has also taken a Self Development Masterclass with Geoff Thompson in Coventry in 2006/7, the first Masterclass to be opened up outside of Geoff's own students. Sifu Steve has also trained in Balintawak (Filipino art) under Chief Instructor for Europe Richard Cotterill.